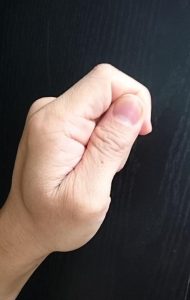 通常の烏賊の口…初学の納刀や当身などは基本的にこのように行います。
Normal Ikanokuchi(烏賊の口)…Basically Noto and Atemi(striking techniques) etc. are done like this.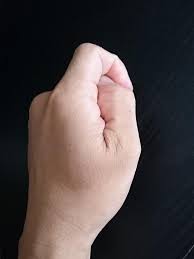 礼法での烏賊の口…少し親指を内側に折り曲げて、親指の爪を隠します。礼法(胡坐での爪甲礼)や立っている際などに使います。
Ikanokuchi at Reiho …Bend your thumb slightly inward to hide the thumb nail. Used for Reiho (Sokorei in Koza) and standing.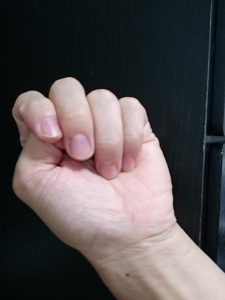 親指隠し…親指を曲げて人差し指中指でかぶせるようにして隠します。胡坐で座る際の手の形です。他では特に用いません。
Oyayubikakushi…Bend your thumb and cover it with your index and middle fingers to cover it. It is the shape of a hand when sitting in Koza. This hand shape is basically not used at other times.